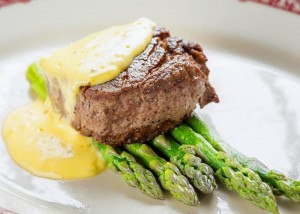 Oooooh, Better Save This Date!!
Valentine's Day, Yes. Please get away from the corporate greed of the holiday and just RELAX with your "honey". Don't buy cheesy bears and same old chocolates. Roses? Blah. We'll have a rose for your date AT THE TABLE.
We have complimentary Champagne and House Made Chocolate Covered Strawberries.
A wonderful, delicious menu for you both to mix and match:
Soup
Shrimp Tomato Bisque
Cup
$4
Appetizers
Kissing Shrimp Skewers with Mango Salsa
$12
Mixed Baby Green Salad
Marinated Artichoke Hearts
Roasted Garlic and Grape Tomato Ragu
"Sweet-Tart" Vinaigrette
$8
Entrees
8 oz Filet Mignon
Horseradish Mashed Baby Red Potatoes
Grilled Asparagus with Béarnaise Sauce
Red Wine Demi-Glace
$36
Seared Pork Tenderloin
Stuffed with Sun-Dried Tomato Goat Cheese
Mushroom "Éclair"
Thyme Beurre Blanc
$22
Crab Topped Salmon Fillet
Risotto Gratin
Haricot Verts
$25
Desserts
Crème Brulee Cheesecake
Strawberry Confit and Toasted Almonds
$6
Chocolate Lava Cake with Blueberry Coulis
and Vanilla Ice Cream
$5
This one is a must RESERVATION ONLY, Limited Grouping. Call early as seating will be limited.
Echelon Food and Beverage
Tim Dabrowa
Kevin Mckinney
                                                                            770-888-4653